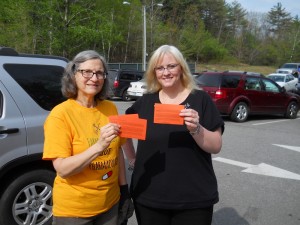 In coming days Gov. Hassan will be seeing a lot of orange (at least her staff will). The New Hampshire Firearms Coalition is behind an effort to see to it that the Governor sign SB 116, a bill which allows the discreet carry of a firearm without a license.
Under the current licensing scheme a person can be denied a license if they are not deemed to be a 'suitable person'. If you don't stop to consider the term 'suitable person', you might think, that's not a problem. Once you know where the term came from and how it was, and still is used, you will see the problem. Back in the 1920's and 30's there were a lot of immigrants coming to America from Ireland and Italy and they were deemed to be unsuitable. You can be sure that this suitability test was applied to other groups as well.
Currently, anyone who is not prohibited from owning a firearm (felons) may carry openly; this is a discriminatory policy. Openly carrying for women is much less socially unacceptable than for men. Furthermore, it is much more dangerous for a woman to carry openly compared to a man; if a criminal were of a mind to attempt to take a gun from a person, he would choose a target which seemed to be easier to overcome with force.
For those who stand on principle and refuse to seek permission to carry, open carry is the only legal option. Without SB 116 women are put at higher risk than men.
If the Governor supports equality, she needs to show it and put an end to this discriminatory licensing scheme.
You can contact the Governor here, or call her 603 271 2121. Ask her to stand up for women's rights and end discrimination by signing SB 116.