I moved to Belmont in the spring of 2012 when I bought a piece of land here. Belmont is mostly a bedroom community at the crossroads of RT 106 and RT 140 located just south of Laconia.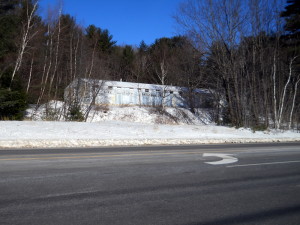 Along the side of RT 106, set back just a bit off the road, is an old building that you could drive past a hundred times and not take notice. It looks like a windowless steel warehouse.
The curious thing about this old building is the faded and weather worn lettering on the side. It reads: MILLION DOLLAR SHOW.
I've had a story in my mind about what this building housed back in the day and I've always meant to ask the locals about it. And I finally remembered to ask at the town election recently.
In my mind the story was that it was a strip club or Burlesque show; isn't that obvious? I got a little chuckle from the selectman as he explained, no it was a museum of armor and arms.
Because it existed prior to the internet age there isn't a lot of information about the place. I did find a couple of references.
At the Glenbow Museum site is this photo of the owners.
A bit more of the history was found at Jan's Antiques.com
The Glenbow Museum's extensive collection of militaria and European decorative art was assembled by Lucie and Joachim Schuller. The Schullers used their personal collection of family heirlooms, augmented by auction and private purchases, to build a first-rate collection during the first half of the 20th century. In the early 1950's, their collecting culminated in the opening of the Schuller Museum of Art and Chivalry, first near Belmont, and later near Laconia, New Hampshire. The Schullers marketed the collection as "The Million Dollar Show", and advertised "The Largest Collection of Japanese Armour on Exhibition in the World". Wishing to preserve their life's work of collecting, they sold the collection to the Riveredge Foundation in 1973 and the museum was moved to Calgary.
Since the museum closed down it has been serving as a warehouse and the selectman thought it might soon be up for sale. It makes me wonder if it wouldn't be the perfect home for the Church of the Sword.