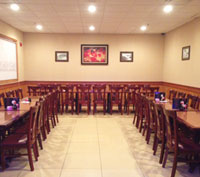 March 17th is our monthly meeting and you are free to wear a bit of green too.
We start at noon with lunch and chatting among the local liberty crowd.  This month we will be joined by Rachel Goldsmith, executive director of the Free State Project, for a mini State of the Free State and AMA (ask me anything) starting around 1:00.  While most of our attendees have moved as part of the liberty migration, many are locals or those who came to NH for liberty before Jason Sorens dreamed up the idea.
We meet in Belmont at the New Hong Kong Buffet.  We gather in the large room on the left near the buffet.  Stop by for lunch with your liberty loving neighbors.
If you're looking for more liberty connections in New Hampshire check out this calendar.
If you'd like to get an event posted here, shoot me an email mike@lakesregionporcupines.com or drop a comment below.