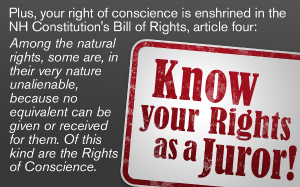 Belknap County Superior Court will assemble a new jury pool on October 30, 2017.  We'll be there to distribute some helpful information on the juror's rights.  We'll be handing out flyers starting at 8:30.
We've been out regularly, every other week for each pool, for longer than I can recall. We need to restock on flyers. If you'd like to contribute to the effort we'll be happy to accept a small donation. Bitcoin let's you send funds with a minor transaction fee. Well that was the idea of Bitcoin. Now SegWit bitcoin cost $2-3 in fees, screw that.

With Bitcoin Cash your transaction fee is less than a dime!
1CMr2FWzj7fTUt8QNTVVZbcwQHEiTg9Lep
bitcoincash:1CMr2FWzj7fTUt8QNTVVZbcwQHEiTg9Lep?label=JuryFlyer&message=JuryOutreach
Thank you for your support!